The International Carl Nielsen Competition faces a reduction to the original slim version

The latest International Carl Nielsen Competition is now known to be the last with clarinet players from most of the world competing at Odense. The management of the Odense Symphony Orchestra has decided only to continue the violin version of this Competition, and this only in a reduced version with no festival in connection with the next Violin Competition in 2016.

The director of the Competition Secretariat, Marianne Granvig, will not be working with the reduced version of the Competition. The management of the Odense Symphony Orchestra has explained that it would not be possible to finance the Competition with alternating versions every year and at the same time find the funding for the Odense Symphony Orcestra's participation in the celebration of the Nielsen anniversary in 2015.

There seems to be plans for the Nielsen Organ Competition to be continued with a new base at the Odense Cathedral. This then still leaves the clarinet players and flutists without the possibility to meet at Odense and show their skills in Nielsen's masterpices for their instruments.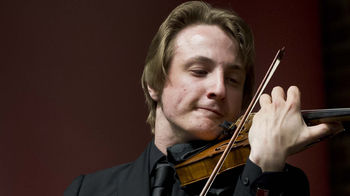 The Danish violinist Nicklas Walentin Jensen, who is presently studying at the Royal Danish Academy of Music, was among the winners at the International Carl Nielsen Competition in 2012.